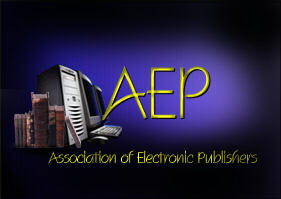 Membership Rules
AEP Membership can only be granted to companies who are in the business of publishing electronic books.

Distributors, Resellers etc, can not hold AEP Membership, but may apply for AEP approval.
AEP Approval means that an AEP approved company is a legitimate business involved in either distributing or reselling electronic books for a period of 6 months or more.
AEP cannot govern AEP Approved companies, but will advise if grievances against any approved company come to light, so that they can be resolved.

Full AEP Membership status, along with voting rights, will only be granted to publishers in the business of selling electronic books for twelve (12) months or longer.

Associate AEP Membership - non-voting - will be granted to publishers in the business of selling electronic books for at least six (6) months if all other criteria are fulfilled.
Once the twelve (12) month period has been met, the Associate AEP Membership will be transferred to full membership status.
No Associate AEP Member can hold an offical role within AEP, or act in an official capacity.
Neither of these memberships will be granted unless the publisher also complies with the balance of this application.

No more than 5% of a AEP member publisher's catalog can be self-published works by the owner of the company.
AEP Member publishers must pay royalties of at least 20% on electronically published works.
AEP Member publishers may not charge any upfront fees for publication of an author's work. This excludes the right to request an author to pay for his or her own copyright.

AEP Member publishers agree that authors can be expected to pay for any extraordinary expenses such as special art, manuscript typing, and anything else which is not considered "standard" publishing expenses ordinarily incurred by the publisher.

Authors published by an AEP Member publisher retain sole copyright of their material after expiration of contract.
All AEP member publishers' books must have ISBN numbers for each book published.
AEP Members agree not to disclose any confidential information about authors, customers, applicants or members. This includes addresses, phone numbers, financial information etc.
Members shall be held to a high standard of ethical behavior when dealing with both customers, staff and authors. This ethical behavior shall include and extend to not only the rules which AEP has set forth in their regulations, but also to the standards they have set forth in their own contracts.
Applicants must provide a sample contract for AEP review.

AEP contracts must state an end date ("Out Of Print Date")
No AEP member will hold electronic rights indefinitely.

AEP Members must display the "AEP MEMBER" button provided by AEP on their website, linked to the member page, so that customers and authors can check that the member is legitimate.
AEP provides it's members with a private facility (Mailing list) to discuss member issues.

No member may discuss issues raised within the AEP mailing list with third parties except if requested to do so by AEP
All topics within the mailing list remain strictly confidential.
No member may forward any post made to the mailing list, except to another member.

AEP maintains a website, providing member information

A named AEP member acts as Webmaster for the AEP Website and is responsible for maintenance.
New members must be added within a week of acceptance.
New members must provide their details (Address, contact, URL, Email Contact, etc.) upon request for inclusion on the member page.
Members will provide changes of address, or similar details if and when they change to allow member information to be up to date.
All original correspondence addressed to AEP and received by a member must be forwarded to the AEP mailing list unedited.

AEP provides a "Grievance Committee" comprised of three full members, to take complaints about any member or company.

The Grievance Committee will investigate and substantiate claims and bring non-complying members before the board for review, dismissal or warning, whatever the case may warrant.
The Grievance Committee will not disclose any details of a grievance to any member, the board or any uninvolved third party, until it is fully substantiated.

AEP has a spokesperson and this is established through voting by all (full) AEP members.

No spokesperson may hold the post for more than six (6) months.
The spokesperson is responsible for determining elegibility of membership of new applicants.
A substitute spokesperson must be named if the elected spokesperson is absent for a considerable length of time.
If there are grievances against the spokesperson, said spokesperson cannot act in this capacity and must be replaced by a substitute spokesperson through voting.
To Apply for Membership and be listed on the AEP Members Page, please determine whether you fit the criteria and agree with the rules above. If you do and your company wishes to apply for membership, please e-mail Michele Johnson a copy of these rules with your statement typed at the bottom "I fit the AEP criteria and I agree with the rules and regulations as stated above." Include your typed signature, your e-mail address, your company name, address and phone number as well as your web page address. Also, please enclose a sample copy of your contract for review, either by attachment or copy and pasting it into e-mail. Your application will be taken before the membership committee and you will be notified shortly as to whether you have been approved for membership. Thank you!
To send a message to the head of our grievance committee, please e-mail Bonnee Pierson.
For further info, email: Michele J. Johnson, Membership Committee
Return to Main AEP page.
---
(c) 1998 AEP, Silke Juppenlatz (Images may not be used without permission)
Last revised: March 07, 1999