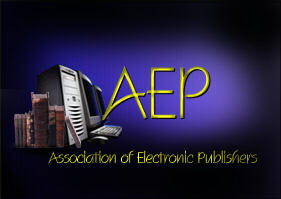 Links to AEP Approved Companies
The links below are provided to AEP approved companies who are not member publishers.
The Book Nook is an unique mail order romance bookstore which carries e-books. Click here to visit!
eBookShoppe is a mail-order bookstore specializing in serving the needs of customers looking for electronic books. Click here to visit!
Novelon is a virtual library service for book publishers and book readers. Click here to visit!
Also, if you're interested in e-publishing, you might wish to join the E-Pub discussion list. Here's the details:
The E-Pub List is an unmoderated discussion list, started November 1, 1998, to provide an open forum for discussing all aspects of the e-publishing industry, including technical, market, industry, and promotion. It discludes the craft of writing, but includes the business side of writing. It is open to writers (published and unpublished), editors, publishers, and anyone in the book- selling industry who is interested in sharing information and learning more about the e-publishing industry. The E-Pub List is not affiliated with any organization or association.
Sign up instructions are:
Visit: http://www.onelist.com/subscribe/e-pub to subscribe.
Return to the Main AEP Page.
(c) 1998 AEP, Silke Juppenlatz (Images may not be used without permission)
Last revised: March 07, 1999