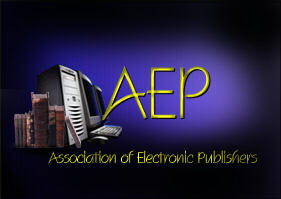 About The Association of Electronic Publishers
What is AEP?
AEP (Association of Electronic Publishers) is a self-policing organization whose members assure a certain standard is maintained within epublishing; that authors can confidently submit with the knowledge that a member of AEP is a trustworthy publisher, and customers have the peace of mind that an AEP member will not "run with the money" when buying goods from them.

All AEP members handle personal information with the strictest confidence and will not disclose this information to any third party.
Who runs it?
AEP is run by the members. The approval committee, composed of three active members, has the responsibility to determine membership elegibility of applicants. After elegibility has been ascertained, addmittance is voted on by all members within 30 days of receipt of application.

No one member can make a decision without a majority vote.

A grievance committee verifies claims of non-compliance with AEP rules, if any grievance against a member is received. After the information has been verified, it comes before the members for vote of suggested action. If action is required, steps to resolve the grievance must be taken by the member within 30 days, or AEP membership will be revoked.
Why was it founded?
AEP was founded due to the confusion about who is - and who isn't - trustworthy in the industry. The founding members decided that, if an association looked after the interests of its members as well as their authors and customers by policing its members and holding them to openly posted standards, it would result in better industry communication and trustworthiness.
If you would like to link to AEP, please e-mail Michele Johnson and request our banner and linking code. AEP members will be sent a member button to display upon membership acceptance.
Return to the AEP Main Page.
---
(c) 1998 AEP, Silke Juppenlatz (Images may not be used without permission)
Last revised: March 07, 1999